The final Con†Stellation is over 🙁

😀↪︎ But, join us for Not-A-Con 2019!! ↩︎😀
😀↪︎ Which will be 18–19 October ↩︎😀

We will be transforming the Con†Stellation pages into a history site
Please bear with us as that transition will take some time



Con†Stellation XXXV: Horologium (The Clock)

13–15 October 2017——Huntsville, Alabama

| | | |
| --- | --- | --- |
| GoH: Mary Robinette Kowal |      Artist GoH: David O. Miller      | MC: Toni Weisskopf |
This article is about the 2013 Con†Stellation. For information about the current convention please see the Main Page. For information on other past Con†Stellations see the Con†Stellation History page.
Con†Stellation XXXII: Columba was held 11-13 October 2013 at the Holiday Inn Express located near the intersection of University Drive and Jordan Lane:
3808 University Drive
Huntsville, AL, 35816

2013 Registration Rates & Info
Adult Membership(←What's That?) rate:

$40 through July 21, 2013

Rate Expired



$45 thereafter and through September 23, 2013

Rate Expired



$50 thereafter and at the door

Rate Expired
Child and Young Adult Rates:
Rates for children (though age 12) were fixed regardless of when they were purchased.

Ages 0 to 3 (as of October 11, 2013): Free

Rate Expired



Ages 4 to 12 (as of October 11, 2013): $25

Rate Expired



Children not accompanied by an Adult Member were charged the Young Adult Membership rate.
Young Adult Memberships (students age 13-21, as of October 11, 2013) were $5 off the corresponding Adult Membership in effect at the time of purchase. Rate Expired
2013 Guests
Con†Stellation's guests in 2013 were:
Guest of Honor: Larry Correia

Artist Guest of Honor: Kurt Miller

Fan Guest of Honor: Darrell Osborn

Mistress of Ceremonies: Stephanie Osborn
Also Attending: L.R. Barrett-Durham, Melissa Gay, E.G. Glover, Les Johnson, and Toni Weisskopf.
2013 Hotel
We were back for our twelfth (!) consecutive year at the Holiday Inn Express. The hotel is located near the intersection of University Drive and Jordan Lane in Huntsville, at 3808 University Drive, Huntsville, AL, 35816. Click here for a Google map.
Standard rooms (king or double-double) were $84 (+ taxes), suites were $120 (+ taxes), for 1–4 people per night. Folks planning a room party were encouraged write to or email the general convention address for assistance in blocking into the room party area.

2013 Con†Stellation T-Shirts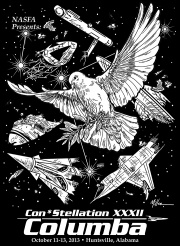 Main Article: Con†Stellation T-Shirts
Convention T-shirts were $16–$18 (depending on size) and were available in sizes S–5XL (in a unisex crew-neck style) or S-3XL (in a ladies scooped-neck style). Shirts were available by pre-order only in 2013. At this writing we cannot be sure, but it's likely that future years' shirts will also be available solely or predominately by pre-order.

2013 Art Show & Auction
Con†Stellation's annual Art Show and Auction brings together art from both professional and amateur artists. Art can be anything from a painting, to a pen and ink drawing, to a cartoon, or much more. Crafts are also included and could include a knitted Kobold, crocheted Cthulhu, pottery and glassware, jewelry, even origami! All the artwork you find each year will have some connection to science fiction, fantasy, or fandom(←What's That?) itself.
2013 Programming
The final pre-con cut at the Con†Stellation 2013 Programming Schedule was updated Saturday evening, October 5, 2013. For folks curious about what kind of programming we may have at future Con†Stellations, this may be a useful guide.
There are a couple of specific programs that we'd like to bring to your attention:
KandyKlatsches
Perhaps you've been to a KandyKlatsch at a convention before? If not, the short definition is a gathering with a convention guest and a small group of fans, drinking coffee (or tea, or...) and chatting. Well, starting in 2012—and continuing in 2013—we put our own spin on that by providing candy instead of coffee. (Yes, there's strategy involved—one would be ill advised to put a piece of toffee in ones mouth just before asking a question.)
Costume Contest
Con†Stellation had a "traditional" Masquerade on Saturday evening for most of its existence, but it became harder for anything other than really large cons to effectively stage one. So, we were faced with the question "What to do to honor the tradition of costuming at sf/f conventions?" while facing the difficult decision to abandon a formal Masquerade.
The answer was a Hall Costume Contest… but one with a twist that benefited our 2013 charity. What we asked people to do was:

Wear their favorite costume—be it simple or complex—any time Friday or most of Saturday at the convention.
Have their picture taken; they could bring us one of their own or we'd take one for them.
We posted the pictures along with a designated donation drop.
Here's the key bit: Encourage everyone to vote for you by putting their donation in your designated drop.
We declared a winner Saturday evening at the Art Auction based on who raised the most money for charity.
2013 Gaming
The (pretty nearly) final 2013 gaming schedule is available for review at this link as a PDF file. Yeah, there were changes at the con, but then that's always true. Every year will be different, but this may give you some hint of what could be in store for future years.
Artemis
Artemis, the spaceship bridge simulator, made an appearance at Con†Stellation XXXII. Each person in the 6-man crew was given a specific assignment from captain to engineering. Everyone, except the captain, had their own workstation to carry out their tasks. Hopefully, your crew was successful in its mission.
Many thanks to the crew of PlayOnCon for hosting this event.

Killer Cutthroat Spades Tournament

Killer Cutthroat Spades is a variant on no-partner spades with severe penalties for sandbagging, thus putting extra emphasis on both accurate bidding and sharp gameplay. Con†Stellation holds an annual tournament and 2013 was no exception. What did the winner get? Mostly bragging rights—no small thing in this neck of the woods!
Never played Killer Cutthroat Spades before? No problem, we'll help. (Seriously, we actually did help; we love introducing the game to new folks. Some experience playing spades, bridge, or some other bid-and-trick based game is helpful, but not necessary. We can pretty much always round up enough players to teach new players at a non-tournament game before they go swimming with the sharks.)

Lots More
We always have a good selection of gaming events with both preplanned and open tables. In 2013 you could BYOG (Bring Your Own Game) or take out something from Craig's Closet, there was always a good game to be found.
Sci-Quest was Our 2013 Charity

Con†Stellation is happy that we chose local hands-on science learning center Sci-Quest as our charity for 2013. Sci-Quest is a 501(c)(3) nonprofit organization serving the Tennessee Valley (North Alabama and Southern Tennessee). Their mission is "to motivate visitors to discover and explore the wonders of science, technology, engineering and mathematics (STEM), and to correlate their interest to the existing career fields throughout Huntsville and the Tennessee Valley" and they do lots of school outreach, covering a 23-county area.
In total, Con†Stellation raised $800 for Sci-Quest in 2013.
2013 Con Suite
Our Convention Hospitality Suite (Con Suite(←What's That?) in convention lingo) is one of the highlights of Con†Stellation. You'll certainly find the usual Con Suite munchies and soft drinks every year, but you'll also find more hearty fare at numerous times all through the con. Just ask anyone who's been to one of our conventions and you'll likely hear high praise for our mistress of victuals both in 2013 and years past.
2013 Flyers
The final version of the 2013 Con†Stellation flyer (dated 8/25/2013) is still available by clicking here. Remember this is not for the current Con†Stellation; please see the Main Page for the current year.
Questions? How to Contact Us
Please see the Main Page for ways to get in touch with the current Con†Stellation.