Line 1:
Line 1:
 

{{currentconstell}}

 

{{currentconstell}}

 

{{OoD|2016}}

 

{{OoD|2016}}

 
+
 

==Guest of Honor==

 

==Guest of Honor==

 

[[File:Jody_Lynn_Nye 2016.1c.jpg|thumb|175px|left|<div align="center">Jody Lynn Nye</div>]]

 

[[File:Jody_Lynn_Nye 2016.1c.jpg|thumb|175px|left|<div align="center">Jody Lynn Nye</div>]]
---
Revision as of 15:44, 20 February 2017
The final Con†Stellation is over 🙁

😀↪︎ But, join us for Not-A-Con 2019!! ↩︎😀
😀↪︎ Which will be 18–19 October ↩︎😀

We will be transforming the Con†Stellation pages into a history site
Please bear with us as that transition will take some time



Con†Stellation XXXV: Horologium (The Clock)

13–15 October 2017——Huntsville, Alabama

| | | |
| --- | --- | --- |
| GoH: Mary Robinette Kowal |      Artist GoH: David O. Miller      | MC: Toni Weisskopf |
This page is currently out of date and contains info on the 2016 Con†Stellation. For information about the current convention, please see the Main Page.
Guest of Honor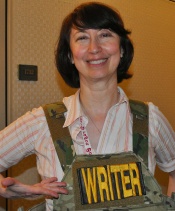 Jody Lynn Nye was born in Chicago. Before breaking away to write full time, she worked as a file clerk, bookkeeper at a small publishing house, freelance journalist and photographer, accounting assistant, and costume maker. For four years, she was on the technical operations staff of a Chicago TV station, serving the last year as Technical Operations Manager. During her time at WFBN, she was part of the engineering team that built the station, acted as Technical Director during live sports broadcasts, and worked to produce in-house spots and public service announcements.
Since 1985 she has published 47 books and 120 short stories. Among the novels are her epic fantasy series, The Dreamland, beginning with Waking In Dreamland; five contemporary humorous fantasies, Mythology 101, Mythology Abroad, Higher Mythology, Advanced Mythology, and The Magic Touch, three medical science fiction novels, Taylor's Ark, Medicine Show, and The Lady and the Tiger; and Strong Arm Tactics, the first in the humorous military science fiction series, The Wolfe Pack. Jody also wrote The Dragonlover's Guide to Pern, a non-fiction-style guide to the world of best-selling author Anne McCaffrey's popular world. She also collaborated with McCaffrey on four science fiction novels, The Death of Sleep, Crisis On Doona, Treaty At Doona, and The Ship Who Won (as well as a solo sequel to Ship entitled The Ship Errant). Jody co-authored the Visual Guide to Xanth with best-selling author Piers Anthony, and edited three anthologies, including a book of humorous stories about mothers in science fiction, fantasy, myth and legend, entitled Don't Forget Your Spacesuit, Dear! Her fantasy duology, An Unexpected Apprentice and A Forthcoming Wizard invoke the Lord of the Rings in tone and style. She wrote eight books with the late Robert Lynn Asprin: License Invoked, a contemporary fantasy set in New Orleans, and seven set in Asprin's Myth Adventures universe. After Asprin's passing, she continued with both his Dragons and Myth-Adventures series, writing Dragons Deal, Dragons Run, and Myth-Quoted.
Her newest series from Baen, the Lord Thomas Kinago books, include View From the Imperium, Fortunes of the Imperium, and Rhythm of the Imperium.
Over the last twenty years, Jody has taught in numerous writing workshops and participated on hundreds of panels covering the subjects of writing and being published at conventions. She has also spoken in schools and libraries, consulted on an animated feature scripts, and runs the two-day writers' workshop at Dragon Con in Atlanta. She and her husband, Bill Fawcett, are the book reviewers for Galaxy's Edge Magazine. You can find out more about her and her work at jodynye.net or follow her on Twitter at @JodyLynnNye.
Artist Guest of Honor
Howard Tayler is the writer and illustrator behind Schlock Mercenary, the Hugo-nominated science fiction comic strip. His artwork is featured in XDM X-Treme Dungeon Mastery, a role-playing supplement by Tracy and Curtis Hickman, as well as in the board game Schlock Mercenary: Capital Offensive by Kevin Nunn, published by Living World Games.
Howard has written SF horror for the Space Eldritch and Space Eldritch II: The Haunted Stars anthologies, and full-metal fantasy tie-in fiction for Privateer Press under their Skull Island X imprint. He also co-hosts the Hugo and Parsec award-winning "Writing Excuses" podcast, a weekly 'cast for genre-fiction writers. "Fifteen minutes long, because you're in a hurry, and we're not that smart."
A recovering autodidact, Howard nevertheless remains a firm believer in the power of focused practice, and in the relative irrelevance of talent. He praises artists' skills, rather than saying "you're so talented," because he knows that their years of study and refinement are what we see on the pages they create.
He lives in Orem, Utah with his wife Sandra, their children, and one ungrateful, archetypally imperious cat. You can find out more about his work at www.schlockmercenary.com.
Master of Ceremonies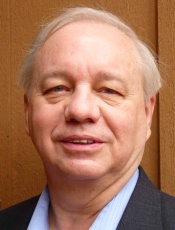 Bill Fawcett has taught, been a game designer, author, and college dean. His entire life has been spent in creative fields and managing other creative individuals. He's one of the founders of Mayfair Games, a board and role playing gaming company. As an author Bill has written or co-authored over a dozen books and dozens of articles and short stories. As a book packager, his company Bill Fawcett & Associates has worked with over 400 titles for virtually every major publisher including a number of best selling SF, mystery, and action novels. He founded, and later sold, what is now the largest hobby shop in Northern Illinois.
Bill's first commercial writing appeared as articles in the early Dragon magazines. At Mayfair Games he edited the "Role Aides" Role Playing Game modules and supplements in the 1980s. During this period he also designed almost a dozen board games such as Empire Builder and Sanctuary. In 1994 Bill joined with a team of programmers to form Catware, with him as producer and designer. Catware released Swords of Xeen as part of the game set, Star General, a strategic game that was one of the 20 best selling games the year of its release, Las Vegas Games, and is now working on an online RPG. Bill produced and designed the computer RPG game Shattered Light for Simon & Schuster.
His novel writing began with the juvenile series, Swordquest for Ace Penguin Putnam Publishing. The Fleet series he created with David Drake has become a classic of military SF. Bill has collaborated on mystery novels such as the authorized Mycroft Holmes novels and the Madame Vernet Investigates series. As an anthologist, Bill has edited or co-edited almost 50 anthologies. Bill is the editor of Hunters and Shooters and The Teams, two oral histories of the SEALs in Vietnam. His most recently published works include It Seemed Like a Good Idea, You Did What, How To Lose A Battle, How To Lose a War, and It Looked Good on Paper: Engineering Disasters Through History. He also wrote Oval Office Oddities, containing thousands of fun facts and strangeness about US Presidents. The recently published 100 Mistakes that Changed History and Trust Me, 100 Leadership Mistakes that Changed History are now available; and 101 Stumbles in the March of History will be released in 2016.
You can find out more about him at en.wikipedia.org/wiki/Bill_Fawcett_(writer).
Science Guest
Stephanie Osborn, the Interstellar Woman of Mystery, is a veteran of more than 20 years in the civilian space program, with graduate and undergraduate degrees in four sciences: astronomy, physics, chemistry and mathematics. She is also "fluent" in several more, including geology and anatomy. She's authored, co-authored, or contributed to almost 30 books, including the celebrated science-fiction mystery, Burnout: The mystery of Space Shuttle STS-281. She is the co-author of the Cresperian Saga book series, and currently writes the critically acclaimed Displaced Detective series, described as "Sherlock Holmes meets The X-Files," and the exciting Sherlock Holmes: Gentleman Aegis series. In addition to her writing, the Interstellar Woman of Mystery now happily "pays it forward," teaching math and science through numerous media including radio, podcasting, and public speaking, as well as working with SIGMA, the science-fiction think tank.
Stephanie can be contacted from her website, www.stephanie-osborn.com. Her Facebook fan page is www.facebook.com/SFAuthorStephanieOsborn, and you can follow her on Twitter at @WriterSteph.
Also Expected to Attend
In addition to our Guests of Honor, Master of Ceremonies, and Science Guest we have a great lineup of other guests that keeps expanding. The list is updated as guests are confirmed.
Julie Cochrane
Bio not currently available. In the meanwhile, you can check out www.baen.com/bookdata/catalog/author/name/jcochrane and authors.simonandschuster.com/Julie-Cochrane.
David Drake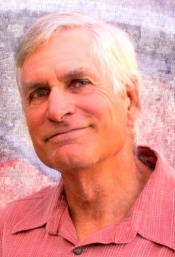 While David Drake was studying at Duke Law School, the Army changed his immediate career path to a choice between interrogator or grunt. Dave chose interrogator. He was assigned to the 11th Cav, the Blackhorse, and spent much of 1970 riding armored vehicles through jungles instead of slogging on foot.
During his service, Dave learned new skills, saw interesting sights, and met exotic people who hadn't run fast enough to get away. He returned to Duke, completed his law degree, and became Chapel Hill's Assistant Town Attorney while trying to put his life back together through fiction that made sense of his Army experiences.
Dave describes war from where he saw it: the loader's hatch of a tank in Cambodia. His military experience, combined with his formal education in history and Latin, has made him one of the foremost writers of realistic action SF and fantasy. His bestselling Hammer's Slammers series is credited with creating the genre of modern Military SF.
He would rather be a moderately successful lawyer with a less interesting background.
Dave lives with his family in rural North Carolina. You can learn more about him at david-drake.com.
Taylor S. Hoch
Bio not currently available. In the meanwhile, you can check out her website or follow her on Twitter at @TaylorSHoch.
Les Johnson
Les Johnson is a physicist, a science and science fiction author, and a NASA technologist. His most recent book, On to the Asteroid, with co-author Travis Taylor, will be released by Baen in August 2016. Les's previous books include Back to the Moon, Going Interstellar, and Rescue Mode (all for Baen) and Living Off the Land in Space, Solar Sails, Harvesting Space for a Greener Earth, and Sky Alert: When Satellites Fail (Springer Books). He is the Senior Technical Adviser for NASA's Advanced Concepts Office at the George C. Marshall Space Flight Center in Huntsville AL, where he serves as the Principal Investigator for the Near Earth Asteroid Scout solar sail mission that will launch in 2018. Les has numerous peer-reviewed journal publications and was published in Analog. He is a member of the National Space Society, the Science Fiction and Fantasy Writers of America, The British Interplanetary Society, The World Future Society, and MENSA.
For more information, visit Les's website [http: www.lesjohnsonauthor.com www.lesjohnsonauthor.com] or check in with him on Facebook at https://www.facebook.com/LesJohnsonAuthor.
Darrell Osborn
Bio not currently available. In the meanwhile, you can check out www.afterdinnermagic.com.
Travis S. Taylor
Bio not currently available. In the meanwhile, you can check out en.wikipedia.org/wiki/Travis_S._Taylor, www.baen.com/bookdata/catalog/author/name/tstaylor, and authors.simonandschuster.com/Dr-Travis-S-Taylor.
Toni Weisskopf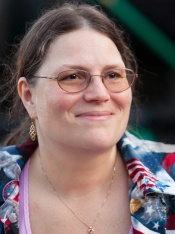 Toni Weisskopf succeeded Jim Baen as publisher of Baen Books in 2006. She has worked with such authors as David Weber, Mercedes Lackey, David Drake, Lois McMaster Bujold, Eric Flint, Wen Spencer, Larry Correia, Charles E. Gannon, and many others. With Josepha Sherman she compiled and annotated the definitive volume of subversive children's folklore, Greasy Grimy Gopher Guts. Weisskopf is a founding member of NASFA and a graduate of Oberlin College with a degree in anthropology. She is the mother of a delightful daughter, and lives in a hundred-year-old house with three cats, two dogs, and a polearm in every room.