The final Con†Stellation is over 🙁

😀↪︎ But, join us for Not-A-Con 2019!! ↩︎😀
😀↪︎ Which will be 18–19 October ↩︎😀

We will be transforming the Con†Stellation pages into a history site
Please bear with us as that transition will take some time



Con†Stellation XXXV: Horologium (The Clock)

13–15 October 2017——Huntsville, Alabama

| | | |
| --- | --- | --- |
| GoH: Mary Robinette Kowal |      Artist GoH: David O. Miller      | MC: Toni Weisskopf |
Guest of Honor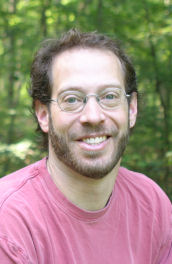 David B. Coe is a winner of the William L. Crawford Memorial Fantasy Award, given by the International Association for the Fantastic in the Arts for the best book or series by a new fantasy author. His works include the LonTobyn Chronicle trilogy, five books in his Winds of the Forelands series, the Blood of the Southlands series (currently at 3 volumes), and various short fiction. His most recent releases are The Dark-Eyes' War (book 3 of Blood of the Southlands) and Robin Hood (a novelization of the movie directed by Ridley Scott and starring Russell Crowe and Cate Blanchett).
You can learn more about David at his website—www.DavidBCoe.com—as well as several other venues including his Facebook page, a WordPress blog, and a LiveJournal blog. As a bonus, if you visit his website you'll find sample chapters from many of his novels.

Artist Guest of Honor
Melissa Gay will be Con†Stellation XXXI's Artist Guest of Honor.
Bio to be posted shortly.

Fan Guests of Honor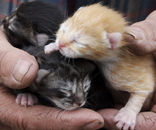 The Moon Princesses—Julie Wall, Toni Weisskopf, & Linda Zielke—have been friends for mumbledy-mumble years and are renowned in fandom(←What's That?) for the parties they throw at conventions plus a general level of welcome frivolity. Of course, each of them is also accomplished in fandom in her own right. Individually and collectively they've worked on more conventions, published more fanzines, and generally engaged in more fanac(←What's That?) than you can shake a stick at. One of the three is also known for major achievements on the pro side of the fence (Hint: she goes by T.K.F. Weisskopf over there), having risen to be publisher of Baen Books several years ago.
But we've invited the trio as this year's Fan Guests of Honor in large part because they had the nutty idea to throw together a bid to bring the 50th DeepSouthCon(←What's That?) to Huntsville and to provide the bulk of the committee from across the southeast rather than asking Huntsvillians to fill all the key roles. That means we have a con to go to right here in town that we don't need to run. Cool. Sounds worth honoring to us!

Mistress of Ceremonies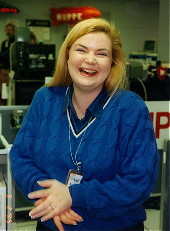 Stephanie Osborn is a former payload flight controller, a veteran of over twenty years of working in the civilian space program as well as various military space defense programs. Stephanie is retired from space work and has moved on to be a heck of a writer. She sometimes clams she's still fairly new at this "author stuff," but if so you wouldn't know about it by looking at the body of her work. Her website—www.Stephanie-Osborn.com—lists over a dozen novels (some co-authored with Travis S. Taylor or Darrell Bain) and a small handful of anthology appearances. Stephanie was such a big hit as our Mistress of Ceremonies at Con†Stellation XXX in 2011 that we've asked her to do it again :-)
In addition to her website, you can follow her on Twitter, Facebook, Myspace, or any of several other social sites listed on her links page.

Special Guest
D.B. Jackson (the new pen name of an established, award-winning author) specializes in historical fantasy. D.B. is the author of Thieftaker Chronicles, forthcoming from Tor Books in July 2012. TC—the first book in the new series Thieftaker—is an urban fantasy set in pre-Revolutionary Boston. The second book in the series, Thieves' Quarry, is currently scheduled for 2013. You can see sample chapters from both books on D.B.'s website—www.dbjackson-author.com—or you can sample his work in the short story "The Tavern Fire," which appears in the 2011 anthology After Hours: Tales from the Ur-Bar, Joshua Palmatier and Patricia Bray, eds. After Hours is a DAW book and includes fifteen tales of fantasy, history, and intrigue.
In addition to his website, you can check out DB's Facebook page, follow him on Twitter, or read his blog. Sharp-eyed observers may notice a strong resemblance between D.B. and another Con†Stellation guest.

Also Expected to Attend
Les Johnson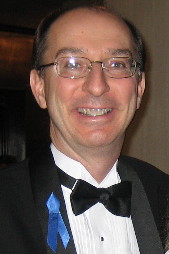 Les Johnson describes himself as a NASA physicist, manager, author, husband, and father—though probably not in that order. At NASA, he is the Deputy Manager for the Advanced Concepts Office of the George C. Marshall Space Flight Center in Huntsville AL. He uses what he calls his spare time to write (popular science books/articles and now science fiction), read (science fiction), and fulfill both the roles of husband and that of father to his two children.
Les's first foray into writing science fiction is Back to the Moon—written with Travis S. Taylor—the story of (not surprisingly) mankind's return to that body after decades of absence. He's alwo the co-author (with Gregory Matloff and C Bangs) of the non-fiction Paradise Regained: The Regreening of Earth. You can learn lots more about Les at lesjohnsonauthor.com or you can check his Facebook page and his Linkedin page.

Joe Dickerson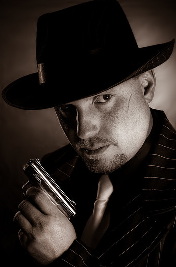 For the longest time, Joe Dickerson believed that he had been hatched by aliens and released in the woods in southern Illinois only to be found and raised by some of the local, back-water folk. Sadly, that was not the case, but such thoughts did make his errant childhood much more interesting, and might explain some of the finer points of his personality. At an early age, he discovered speculative fiction and soon preferred to engross himself in the works of Lovecraft, Herbert, McCammon, and other such literary greats than to interact with the rest of the outside world. Early in 2004, Joe, frustrated with the low number of speculative fiction markets available, founded the online speculative fiction magazine Aberrant Dreams, where Joe currently operates as managing editor and editor-in-chief. No one, not even Joe, can predict the direction Aberrant Dreams' will take in the next few years, but he can guarantee the ride will be entertaining, to say the least. He invites you to make the journey with him. You can find out more at the Aberrant Dreams publishing website.

Rachael Hill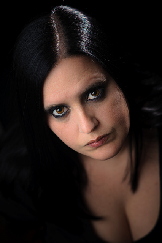 Referred to as the "Gothic Rachael Ray," Rachael Hill grew tired of collecting scar tissue and broken bones and decided to try her hand at cooking. With her devilishly twisted sense of humor, Rachael has crafted recipes of such temptation that one's very soul may be in jeopardy from tasting. Her cookbook, Cuisine from Beyond, was released in 2012 and showcases many of her original diabolical dishes. However, her creativity could not be quelled by her skills in the kitchen. She has also risen as a self taught photographer, specializing in many photographic genres, notably, live concert photography, which has afforded her the chance to contribute to the horror novel All the Darkness in the World by Andy Deane. Early in 2011, Rachael joined the Aberrant Dreams team where her contributions (and cooking skills) could be put to good use.

J.F. Lewis
J.F. Lewis is the author of the Void City series published by Pocket Books. His first book, Staked, resulted in his excommunication, but he assures us he doesn't bite nor does his head spin around… though he wouldn't put it past his characters to do such things. Jeremy thinks it's pretty darn cool that his works have been translated into Italian and French. An avid reader, J also enjoys sushi, popcorn, lukewarm sodas, and old black and white movies. His two favorite activities are reading comics to his kids and typing into the wee hours of the morning. Fortunately, like the protagonist of his Void City novels, he needs very little sleep.
J is a member of the Science Fiction & Fantasy Writers of America, where he volunteers as editor for their Pressbook pages. He is also a Codexian and a member of the League of Reluctant Adults. You can Like J on Facebook or follow him on Twitter. You can also find free fiction set in the Void City universe on his website.

Others to be posted when confirmed