The final Con†Stellation is over 🙁

😀↪︎ But, join us for Not-A-Con 2019!! ↩︎😀
😀↪︎ Which will be 18–19 October ↩︎😀

We will be transforming the Con†Stellation pages into a history site
Please bear with us as that transition will take some time



Con†Stellation XXXV: Horologium (The Clock)

13–15 October 2017——Huntsville, Alabama

| | | |
| --- | --- | --- |
| GoH: Mary Robinette Kowal |      Artist GoH: David O. Miller      | MC: Toni Weisskopf |
This page is not yet fully updated for 2013. Please come back soon for updates.
Guest of Honor
Larry Correia

Fan Guest of Honor
Darrell Osborn is a Renaissance man—graphic artist, stage magician, and ballon artist. When not plotting complete world domination, he puts on a variety of magic shows in the Tennesse Valley area under his nom de stage "Doctor Osborn." You can find out more about Darrell on his website or on his Facebook page.

Mistress of Ceremonies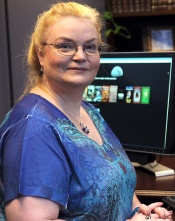 Stephanie Osborn is a former payload flight controller, a veteran of over twenty years of working in the civilian space program as well as various military space defense programs. Stephanie is retired from space work and has moved on to be a heck of a writer. She's been know to claim she's still fairly new at this "author stuff," but that's getting harder to take seriously all the time when you look at the body of her work. Her website—www.Stephanie-Osborn.com—lists a huge array novels (some co-authored with the likes of Travis S. Taylor, Darrell Bain, or Darrell Osborn), short fiction, poetry, nonfiction, and even a YA fantasy. Stephanie was a major hit as our Mistress of Ceremonies at Con†Stellation XXX in 2011—so much so that she's become our semi-permanent MC :-)
In addition to her website, you can follow her on Twitter, Facebook, Myspace, or any of several other social sites listed on her links page.