The final Con†Stellation is over 🙁

😀↪︎ But, join us for Not-A-Con 2019!! ↩︎😀
😀↪︎ Which will be 18–19 October ↩︎😀

We will be transforming the Con†Stellation pages into a history site
Please bear with us as that transition will take some time



Con†Stellation XXXV: Horologium (The Clock)

13–15 October 2017——Huntsville, Alabama

| | | |
| --- | --- | --- |
| GoH: Mary Robinette Kowal |      Artist GoH: David O. Miller      | MC: Toni Weisskopf |
Guest of Honor
Mary Robinette Kowal bio goes here.
Artist Guest of Honor
David O. Miller bio goes here.
Mistress of Ceremonies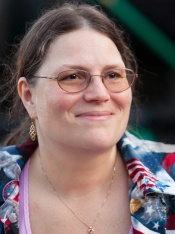 For us at Con†Stellation, Toni Weisskopf may be the epitome of a hometown gal woman person hero made good. OK, so Huntsville isn't actually her home town, but she moved here with her family at age 12 and credits our fair city as the place she discovered fandom. After graduating from Oberlin College she joined Baen Books (in 1987) where she rose through the ranks from editorial assistant to editor to executive editor. She took the reins as publisher after the death of founder Jim Baen in 2006.
Toni has kept Baen Books one of the leading lights in sf and fantasy since then and shows no signs of slowing down. When you talk to her at Con†Stellation about the stellar list of authors she's worked with (David Weber, Mercedes Lackey, David Drake, Lois McMaster Bujold, Eric Flint, Wen Spencer, Larry Correia, Charles E. Gannon—just to name a few); about just anything to do with sf/f publishing; or about fannish history (her bona fides in fannish publishing are as strong as in professional publishing and she was one of the driving forces bringing DeepSouthCon back to Huntsville for its 50th incarnation in 2012.
In addition to being nominated 4 times for the Best Editor (Long Form) Hugo, Toni has won the Phoenix Award (for the pro who has done the most for Southern Fandom), the Rebel Award (for the fan who has done the most for Southern Fandom), the Ruble Award (for the person who has done the most to Southern Fandom). Most recently, the Science Fiction and Fantasy Writers of America has selected Toni for the 2017 Kate Wilhelm Solstice Award.
You can read more about Toni Weisskopf in a 2007 Locus Magazine interview, a 2014 Q&A by David Rapp on Kirkus Reviews, or visit the Baen Books website here.
Also Expected to Attend
In addition to our Guests of Honor and Master of Ceremonies, we are working on a great lineup of other guests that keeps expanding. The list is updated as guests are confirmed.