The final Con†Stellation is over 🙁

😀↪︎ But, join us for Not-A-Con 2019!! ↩︎😀
😀↪︎ Which will be 18–19 October ↩︎😀

We will be transforming the Con†Stellation pages into a history site
Please bear with us as that transition will take some time



Con†Stellation XXXV: Horologium (The Clock)

13–15 October 2017——Huntsville, Alabama

| | | |
| --- | --- | --- |
| GoH: Mary Robinette Kowal |      Artist GoH: David O. Miller      | MC: Toni Weisskopf |
Guest of Honor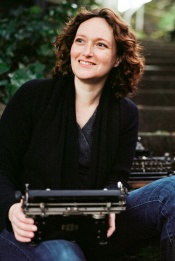 Mary Robinette Kowal is an award-winning author, a professional puppeteer, and a voice actor. Her debut novel Shades of Milk and Honey was nominated for the 2010 Nebula Award for Best Novel. In 2008 she won the Campbell Award for Best New Writer, while two of her short fiction works have been nominated for the Hugo Award for Best Short Story—"Evil Robot Monkey" in 2009 and "For Want of a Nail" in 2011, which won the Hugo that year. Her stories have appeared in Strange Horizons, Asimov's, and several Year's Best anthologies, plus her collection Scenting the Dark and Other Stories. Her latest novel, Ghost Talkers, was released in hardback August 2016 and is also available as an e-book. It will be released in paperback August 2017.
Kowal is also an award-winning puppeteer. In high school, puppetry was a hobby, but she "never thought of it as something you could get paid for." At East Carolina University she took an art degree, minoring in theater and speech. While performing as Audrey II in Little Shop of Horrors, she learned that a professional puppeteer was at the show. It was a turning point. With over twenty years of experience, she has performed for LazyTown, the Center for Puppetry Arts, Jim Henson Pictures, and founded Other Hand Productions. Her designs garnered two UNIMA-USA Citations of Excellence, the highest award for an American puppeteer.
Her puppetry career consumed much of Kowal's creative energy for over ten years. Although she wrote in high school and college, it wasn't until her brother moved his family to China that she began writing again. Like Lewis Carroll and J.M. Barrie, she started writing children's fantasy as a way to stay connected to her young niece and nephew. Reminded of how much she enjoyed writing, she began submitting short stories and made her first sale in 2005—her first professional sale in 2006.
When she isn't writing or puppeteering, Kowal brings her speech and theater background to her work as a voice actor. She is a member of SAG/AFTRA. As the voice behind several audio books and short stories, she has recorded fiction for authors such as Kage Baker, Cory Doctorow, and John Scalzi. She describes voice acting as "puppetry, without the pain."
Kowal lives in Chicago with her husband Rob and over a dozen manual typewriters. Sometimes she even writes on them. You can find out more about her at her website, check her out on YouTube or follow her on Twitter at @MaryRobinette.
From the FAQ on Kowal's website: Q. How do you pronounce your last name?
A. Co-wall, with the emphasis on the first syllable. It's like Kowalski, without the ski. As I understand it, my husband's grandfather Americanized his name when he came over from the Ukraine to make it easier to pronounce.
Artist Guest of Honor
David O. Miller currently bills himself as a "freelance Art Director, Graphic Designer, Illustrator, and Educator" but those categories—wide-ranging as they are—still don't tell the whole story. For instance, they don't mention his abiding interesting in gaming as a player, an artist, and a businessman (Dark City Games). After taking a BA in Graphic Design/Illustration at Eastern Kentucky University, David worked as a graphic designer for various companies in Kentucky, including a TV station and a major advertising agency—where he eventually became a supervisor over a large art department. In 1987 David moved further south and took a job as Art Director in Huntsville at the U.S. Space and Rocket Center/U.S. Space Camp. About that he says: "I was a child during the race to the moon and because of that my heroes were all astronauts. The job at the Space Center was an amazing time for me. I was very fortunate to meet and work with several of my heroes including Alan Shepard and Buzz Aldrin. It really was a dream job."
Still, David really wanted to be an illustraor. Not long after moving to Huntsville his efforts to find freelance illustration assignments started to pay off. Soon he was freelancing for many RPG game companies such as TSR, Game Designers Workshop, White Wolf Publishing, Steve Jackson Games, West End Games, and Wizards of the Coast—as well as Baen Books, DoubleDay Science Fiction and Military Book Clubs, Topps, and Inkworks.
David left the Space and Rocket Center in early 1991 to freelance full-time. It was at this time he met his future wife at a science fiction convention in Chattanooga TN. Julie and David were married in 1993 and he relocated to Long Island, NY. In addition to creating art, he teaches at the Art League of Long Island, the Eastern Suffolk Board of Cooperative Educational Services, as well as in both corporate and individual settings. His very popular Adobe Photoshop classes include Manga illustration and science fiction monster drawing for young adults. He teaches digital editing, digital painting, and acrylic painting for adults as well. David also keeps a busy schedule teaching science fiction and Manga drawing workshops at libraries all over Long Island.
Though he was a great contributor to Con†Stellation while he lived in Huntsville, David's most enduring contribution has been about 3 decades of designs for Con†Stellation T-Shirts, which you can see at this retrospective. You can learn more about David and see many other examples of his are at his website.
Mistress of Ceremonies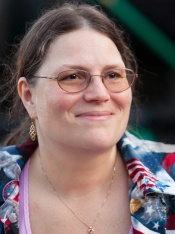 For us at Con†Stellation, Toni Weisskopf may be the epitome of a hometown gal woman person hero made good. OK, so Huntsville isn't actually her home town, but she moved here with her family at age 12 and credits our fair city as the place she discovered fandom. After graduating from Oberlin College she joined Baen Books (in 1987) where she rose through the ranks from editorial assistant to editor to executive editor. She took the reins as publisher after the death of founder Jim Baen in 2006.
Toni has kept Baen Books one of the leading lights in sf and fantasy since then and shows no signs of slowing down. When you talk to her at Con†Stellation about the stellar list of authors she's worked with (David Weber, Mercedes Lackey, David Drake, Lois McMaster Bujold, Eric Flint, Wen Spencer, Larry Correia, Charles E. Gannon—just to name a few); about just anything to do with sf/f publishing; or about fannish history (her bona fides in fannish publishing are as strong as in professional publishing and she was one of the driving forces bringing DeepSouthCon back to Huntsville for its 50th incarnation in 2012.
In addition to being nominated 4 times for the Best Editor (Long Form) Hugo, Toni has won the Phoenix Award (for the pro who has done the most for Southern Fandom), the Rebel Award (for the fan who has done the most for Southern Fandom), the Ruble Award (for the person who has done the most to Southern Fandom). Most recently, the Science Fiction and Fantasy Writers of America has selected Toni for the 2017 Kate Wilhelm Solstice Award.
You can read more about Toni Weisskopf in a 2007 Locus Magazine interview, a 2014 Q&A by David Rapp on Kirkus Reviews, or visit the Baen Books website here.
Also Expected to Attend
In addition to our Guests of Honor and Master of Ceremonies, we are working on a great lineup of other guests that keeps expanding. The website will be updated as guests are confirmed.